Prince Charles launches "Remarkable Trees of Romania"
His Royal Highness the Prince of Wales today [Tuesday, 2 June] launched a project to find and record the oldest, biggest and most special trees of Romania. The project is led by Dr Tibor Hartel of Sapientia University, managed by Pogány-havas Association and sponsored by Sir Charles Burrell of Knepp Castle, UK.
"Romania still has several thousands of ancient trees and thousands of hectares of ancient wood-pastures which are among the best in Europe.", said Tibor Hartel. "They are an important part of our cultural heritage, create beautiful landscapes and provide homes to rare and protected wildlife, plants and fungi. Also, wood-pasture systems represent a sustainable integration of food-production with the ecological, aesthetic and cultural values. This project celebrates these remarkable trees and places, and we hope that it will reconnect communities with their trees and valuable treescapes."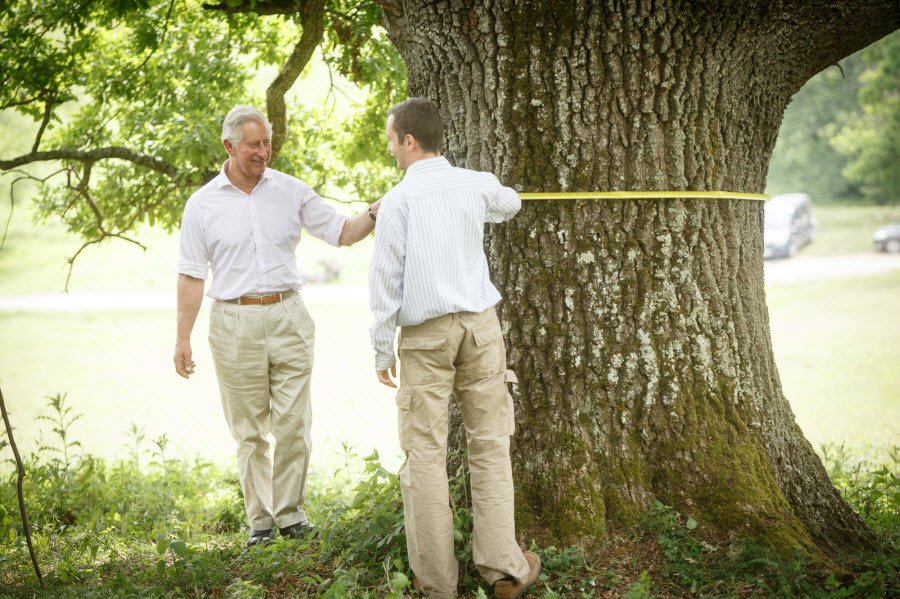 "Every community and school in Romania can get involved in finding special trees in their region and entering the information and pictures on the website that Prince Charles launched today" said Rodics Gergely, executive director of Pogány-havas Association. 'Ancient trees and wood-pastures represent unique opportunities for education, research and community involvement activities for cultural landscape sustainability.'
At the royal event, in the wood-pasture of Miklosvár, Prince Charles measured and recorded an oak tree of about 250 years old, assisted by the manager of the project, Biró Róbert of Pogány-havas Association. Also at the event were sponsor Sir Charles Burrell, and biologist Dr Barbara Knowles, who is organizing international events within this project to raise awareness of the importance of protecting ancient trees and wood pastures.
"Often with medieval origins, wooded pastures are rich in biodiversity and the ancient trees are irreplaceable. We are asking local people to care for their trees, and we will go to Brussels and Bucharest to ask politicians to improve the agriculture and environment policies to protect them," said Barbara Knowles.
"I remember the excitement I felt when I first came to Romania only three years ago, seeing wood pasture systems still functioning - landscapes that would once have been the norm across the whole of Europe but that are almost everywhere now a thing of the past. It was so thrilling to discover these stunning, rich ecosystems still living and breathing in Romania. I can't stop coming back," said Charles Burrell.
"The Remarkable Trees of Romania website is now open for everybody in Romania to record special trees", said Biró Róbert. "Please visit it at http://arboriremarcabili.ro/en/ and follow the example of HRH Prince Charles in putting a remarkable tree on the map."