Back to stories
When you link your life with somebody with a rope you didn't forget anymore
Written by TReka on Oct. 27, 2016
"Hunting" old trees - Short and very short stories
Lucian Holban
Ákos B. from Cernat, is an agronomist doing his job with passion and helpful.
After a half century we have seen each other only twice – at Iași we had climbing through the 70's – I found him on the internet and asked for his help with information about old beech trees from Bodoc Mountains. We went to him after we take Réka from Sfantu Gheorghe's train station. We meet Ákos at Cernat, and we were glad we are still alive and active, after that we talked a little bit and we wanted to go to the mountains. Ákos realized that our Nissan Micra with which we wanted to go up to the mountains had nearly half a century, so he offered us a ride with his 4x4 car; he 'lifted us' at 1200 m high. At the wood-pasture we found beeches and pines, we measured old trees and take photos of them, after which we came back to Cernat….this story is looking simple with a Transylvanian Hungarian and a Moldovan; and it does not sounds like "Mioriţa"!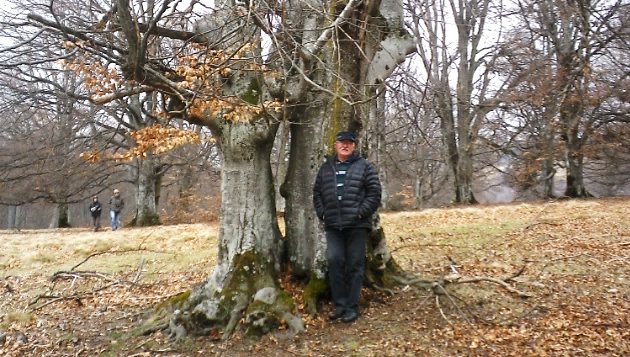 In the front of the picture Ákos, behind Réka, Árpi and the old beech trees.